Hi again!! So my friend Sierra tagged me in this tag on her blog
26 Countless Possibilities
! And this is one that I was determined to complete since I love Goodreads and use it
a lot
!! So here it is!!
What is the last book you read?
The Storybook of Legends by Shannon Hale! First book in the Ever After High: Storybook of Legends series! Way better than the show I have to say....
What book are you currently reading?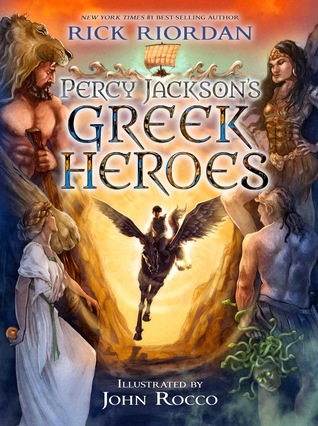 Okay, so I have multiple, but I have decided to just put Percy Jackson's Greek Heroes by Rick Riordan instead of all four....XD
What is the last book you marked as To-Be-Read?
The Rescue by Gordon Korman! Book three in the Kidnapped series.....I have the others on my list too, but this one was the most recent!
What book do you plan on reading next?
Ummmm......That depends entirely upon whenever I finish the books I'm reading right now and what title I pull out of my book jar.....
Do you use the star-rating system?
Of course!!!! I love it!!
Do you have a 2016 reading goal?
I do!!! I'm gonna try for 100 books this year!!!!
What book(s) do you plan on buying next?
I'm not entirely sure.....I don't usually plan what I buy....I usually just browse and if I see a book I want and it's a good price I'll buy it!
What's your favorite quote?
Okay, so total nerd moment, but the only one I can think of is when Leo says "One basketball to rule them all" in The Mark of Athena by Rick Riordan.....XD It's my favorite character and my favorite book series....not to mention it's a Lord of the Rings reference!
Who are your favorite authors?
Rick Riordan, Richard Paul Evans, J.K. Rowling, Gordon Korman, Veronica Roth, Suzanne Collins, and Erin Hunter!
Are you part of any Goodreads groups?
I'm part of a couple, but I don't get on them at all.....I should look at some of the others though....
What could Goodreads do better?
I wish it was easier to keep track of how many times you've read a book....I have to be on my laptop to view the extra details to put in how many times I've read the book and I use my phone more than my laptop when it comes to Goodreads.....That's all I can think of right now....
*******
Okay, that's all!! This is the part where I'm supposed to tag someone, but I don't know anyone else who has a blog that I can tag...... Therefore, anyone is completely free to do this, and if you want to, consider yourself tagged!!! If you do end up doing it, I would love to check out your blog and your answers so please comment with a link!
~Allie~