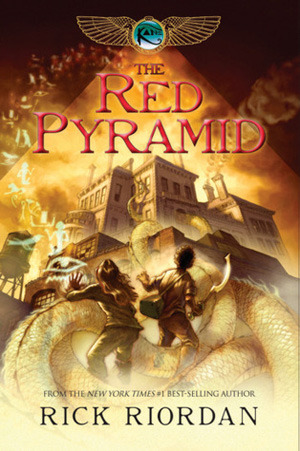 About the book:
Since his mother's death six years ago, Carter Kane has been living out of a suitcase, traveling the globe with his father, the brilliant Egyptologist Dr. Julius Kane. But while Carter's been homeschooled, his younger sister, Sadie, has been living with their grandparents in London. Sadie has just what Carter wants - school friends and a chance at a "normal" life. But Carter has just what Sadie longs for - time with their father. After six years of living apart, the siblings have almost nothing in common. Until now. On Christmas eve, Sadie and Carter are reunited when their father brings them to the British Museum, with a promise that he's going to "make things right." But all does not go according to plan: Carter and Sadie watch as Julius summons a mysterious figure, who quickly banishes their father and causes a fiery explosion. Soon Carter and Sadie discover that the gods of Ancient Egypt are waking, and the worst of them - Set - has a frightening scheme. To save their father, they must embark on a dangerous journey - a quest that brings them ever closer to the truth about their family and its links to the House of Life, a secret order that has existed since the time of the pharaohs.
Pages:
516
Genre(s):
Preteen, Fantasy
Age Range:
I would most likely recommend this for ages 10-12+
POV:
Alternates between First Person, Carter - main character, 14, and First Person, Sadie - main character, 12. There are a couple of scenes told in third person from the other magicians' point of view.
Stars:
4/5
Review:
So, I have to admit that this is probably about the third time I've read this book....Rick Riordan is one of my favorite authors and I have loved every single book of his that I've read! I have so many favorite characters and parts in this book that I probably couldn't choose just one if I had to! I really like that the chapters alternate between both Carter and Sadie so that you get to learn both of their personalities and thoughts the further in you read. Plus I enjoyed seeing how they both mature and grow closer as the story progresses. I'm having such a hard time trying to think of something that I didn't really like in this book! I may have to read it again just so I can look for something! ;) If I can think of something I'll update this! If not, it'll just have to stay just like this!!